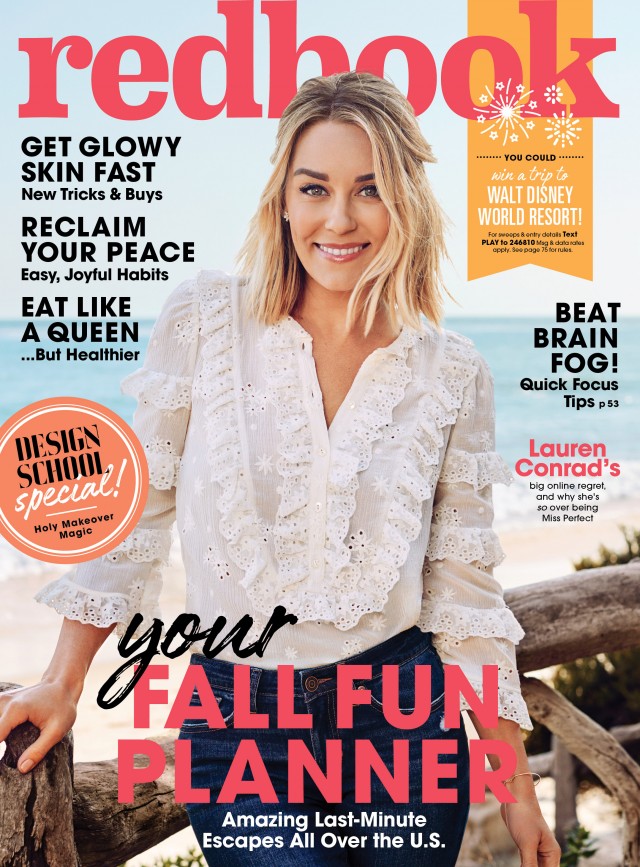 Lauren is the covergirl for Redbook Magazine this October!
If it seems like anything you can do, Lauren Conrad can do better — well, we understand. Take her trick for improving the seemingly unimprovable charity giveaway: "When doing a closet clean-out, make separate piles of stuff and send to appropriate locations [instead of] putting everything into one trash bag. There's Dress for Success for work pieces and places that give nicer dresses to girls going to prom."

But the biggest misconception about Lauren, according to Lauren herself: "It's really funny to me when people have this idea that I have things very put together. My life is a bit of a mess, and I don't broadcast that, but I like it that way." That revelation might come as a surprise given that she has built a whole empire around making life as pretty as possible — from a clothing line for Kohl's to eight best-selling books, including style and entertaining manuals.
Lauren fully understands that she might have contributed to the whole keeping-up-with-the-Joneses vibe online, though that was never her intention. "I like to focus on the prettier parts of life, but that doesn't necessarily represent all of it. I feel bad. There's such a high standard now to do everything and have it all look picture-perfect. You're not going to enjoy the pretty things if you've been up all night doing them. Your life isn't supposed to be Pinterest," she says.

She's come a long way from the 20-something who thought she could have it all. When an old mentor told her that being successful in business, her love life, and friendships would require compromising somewhere, she didn't listen. "Instead, I took it as a challenge," she says.

Now, at 32, she realizes that the desire to do it all wasn't all it was cracked up to be. "I wanted to handle everything myself — I felt that nobody would care about my business as much as I would," she says. "But when you take on too much, it's hard to do everything well. It got to the point where it was too much for me to handle. I had to learn to delegate. If you can focus on the areas where you know you can't be replaced and bring in help in the areas you can, that's where you find success."

Thanks to a newly laid-back mindset, the Cali girl's current ethos could be described as selective perfectionism. She sweats the small stuff only on things that really matter to her. Take her style: Since having her son, Liam, 1, with husband William Tell (fun fact: Liam was born just hours after one of her infamous Fourth of July parties ended — "It was so kind of him to wait!" she says), the polished-and-proper looks we're used to seeing her in come out only for work meetings.

"Stretch denim is my best friend these days!" she says. Before relaunching her LC Lauren Conrad for Kohl's denim collection, she embarked on a yearlong "deep dive" that involved wear-testing jeans samples and sending back notes on fabric and fit. It's the kind of intens

That attention to detail is why she's just now opening a brick-and-mortar location for her nonprofit retailer The Little Market, which sells fair-trade goods made by women artisans, though she's dreamed about it for years.

"We wanted to make sure we could give these female artisans the best platform possible and set them up for success," she says. "So much of it is one-of-a-kind handmade items that you can't even understand the value of until you really see them." Now that we can see the real Lauren Conrad a little better, we know just what she means.

The best outfits are supremely comfy, yet let you instantly look put together. In other words, they're the perfect balance of laid-back coastal Cali and Hollywood chic, just like Lauren. Here are some of her go-to fashion tips to look polished while still feeling comfortable.